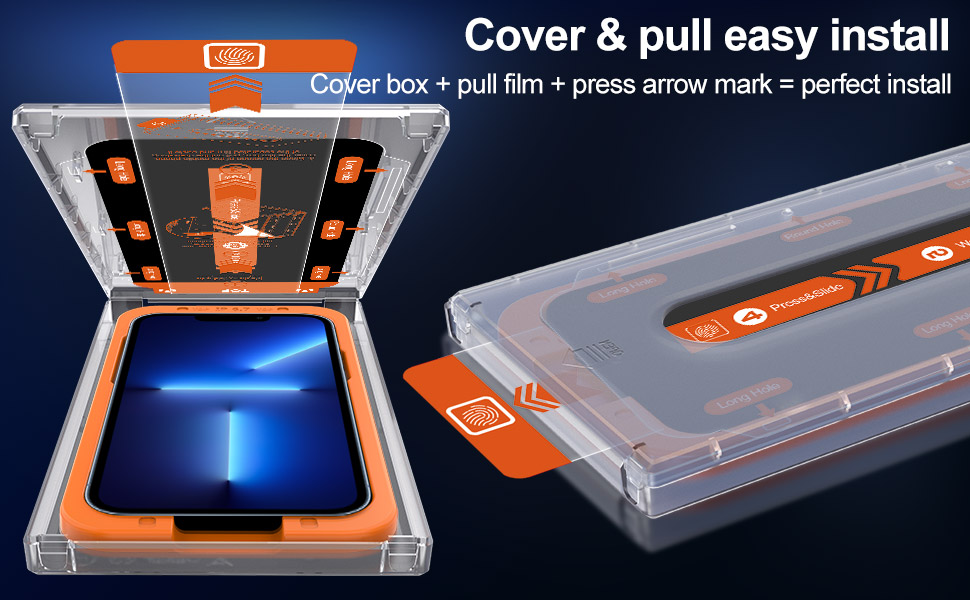 Product Information
iPhone glass screen protector
We specially design iPhone Privacy Screen Protector with Mounting Box for iPhone Series. This screen protector has 7 positioning holes on the top protective film so that it can precisely fit the phone screen. Moreover, the mounting box is made of environmentally friendly materials and we can reuse it for thousands of times.
10X protection for iPhone
This glass screen protector with 9H tempered glass provides 10-time protection than normal tempered glass. What's more, its NANO coating can absorb shock and anti-fingerprint.
Dust & bubble-free installation
The auto-alignment screen protector mounting box for iPhone can avoid dust and air bubbles since we provide a sealed installation process.
Electrostatic dust removal
The plastic film is capable of generating static electricity when we pull out of the release film. While static electricity has the property of attracting light and small objects. Therefore the dust on the screen will be adsorbed to the release film and taken out together. In addition, to promote your using experience, we make the box sealed to isolate the dust, which is truly a dust-free film.
HD Clear/Privacy Glass Protector
You can select one of the following two types of protector :
The 0.3mm 9H tempered glass                  – it ensures the original clarity of the screen.
The privacy glass                                        – For this, we uses the shutter principle to support 28° anti-peeping.
How to install an iPhone screen protector easily?